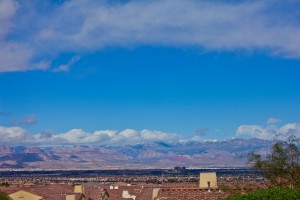 Henderson, officially the City of Henderson, Nevada, is a city in Clark County, Nevada. The city is part of the Las Vegas metropolitan area, which spans the entire Las Vegas Valley.
In 2011, Forbes magazine ranked Henderson as America's second safest city. Analysts attribute this to Henderson being an affluent city, with a high median income and amenities catering to local residents. Henderson has also been named as "One of the Best Cities to Live in America" by Bloomberg Businessweek.
An increasing number of major shopping malls, movie theater complexes, restaurants and casino resorts offer residents a variety of choices for leisure time in Henderson. The city also sits a few miles southeast of Las Vegas and is not too far from the world-famous Las Vegas Strip. The city also boasts the largest recreational facility – the Multigenerational Facility at Liberty Pointe – in Nevada as well as Nevada's only scenic Bird Preserve. The city supports a variety of other cultural events as well, many of which are held at the outdoor amphitheater, the largest one of its kind in Nevada.
The Clark County School District provides elementary and secondary public education. Henderson is the location for 29 elementary schools, nine middle schools, and nine high schools.