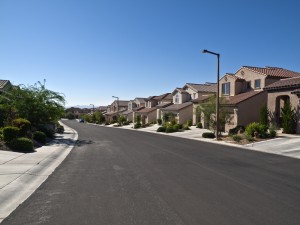 Spring Valley is an unincorporated town and census-designated place and part of Las Vegas Township in Clark County, Nevada, United States, located 2 miles (3 km) west of the Las Vegas Strip. The population was 178,395 at the 2010 census. Spring Valley was formed in May, 1981.
After purchasing the land occupied by Stardust International Raceway, Pardee Homes began developing a master-planned housing community called Spring Valley southwest of Las Vegas in the mid-1970s. By 1981, residents grouped together to solicit the Clark County Commission to create an unincorporated town, which it did that May. The town originally encompassed 1 square mile (3 km2), but now occupies much of the southwest quarter of the Las Vegas Valley.
The predominant boundaries of Spring Valley are Sahara Avenue on the north, Decatur Boulevard on the east, Warm Springs Road on the south, and Hualapai Way on the west.
The area mostly consists of housing subdivisions, with strip malls lining the large boulevards that connect suburban Las Vegas to the Strip. The northern part of Spring Valley includes areas of rural-estate zoning, with large parcels of land on blocks of 1⁄64 square miles (40,000 m2). The southern part of Spring Valley is quickly developing – fifteen years ago, very little south of Tropicana Avenue was developed within Spring Valley.
A large park, Desert Breeze Park, is located in the north-central part of the town.
Its municipal government is the Clark County Commission, which has seven members from across Southern Nevada (and none of whom reside in Spring Valley as of 2006). A five-member Town Advisory Board offers advisory opinions on zoning and business matters to the commission, but the commission is not obligated to respond or be held to those suggestions.
Spring Valley is the home of tennis players Andre Agassi and Steffi Graf, as well as Sacramento Kings owners George and Gavin Maloof. The Sultan of Brunei used to keep a residence there, and Carrot Top has his Las Vegas residence in the area. Blogger and reality TV personality J.Son Dinant resides in Spring Valley. NASCAR drivers Kurt and Kyle Busch attended Durango High School in Spring Valley, as did actress Cerina Vincent and BMX celebrity T. J. Lavin.